Cheers, San Diego: Made in SD block party is coming to town
Feb 21, 2019 - Sarah Lubeck
Last year, EDC – the organization behind SD:Life.Changing. – collaborated with Ballast Point to launch a Made in San Diego beer. The premise was simple. Ballast Point, a fan favorite brewery that started right here in San Diego, wanted to give back to the region that had given it so much. So they collaborated with SD: Life. Changing. to create a Made in SD beer that was for San Diego, and by San Diego. And because it wouldn't be San Diego without a 'life-changing' tie in, Ballast Point has been donating a portion of the proceeds to the San Diego Entrepreneurship Fund.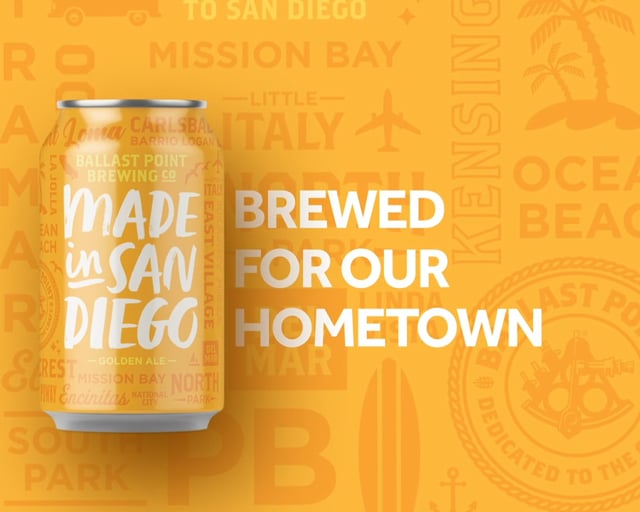 Made in SD Block Party
Now, the brewery is taking it one step further and hosting its Made in San Diego Block Party to celebrate its San Diego roots. The festival, taking place at the corner of India St and W Ivy St in Little Italy on March 30, promotes beer, music, art, food, and products made in San Diego. Admission is free (entry based on capacity).
San Diego on tap
Ballast Point is extending some love to other breweries with a San Diego presence. Some of the breweries you'll be able to sample at the Block Party include:
Amplified Ale Works
Belching Beaver
Duck Foot Brewing Co.
Eppig Brewing
FALL Brewing Co.
Green Flash Brewery
JuneShine
Ketch Brewing
Latchkey Brewing Co.
Mikkeller Brewing SD
Newtopia Cyder
OB Brewery
Papa Marce's Cerveceria
Saint Archer Brewing Co.
Want to get your hands on some Made in SD before the block party? You can pick up a case at your local market, or head to one of these local watering holes including barleymash, Urbn Pizza, Coin Haus in La Mesa, and more. Make sure to cheers on social and tag @SDlifechanging.
And of course, the special brew is only available in San Diego County. So future San Diegans, you can add this beer to the growing list of reasons to call San Diego home.
Cheers to San Diego – delicious craft beer and supporting entrepreneurship in the process.
Other articles you may be interested in:
---